About the CCL Storage Pool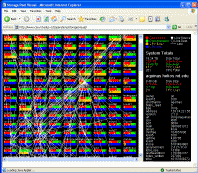 ---
To support our research activities, we operate a dynamic distributed storage pool of over 300TB of storage on over 300 distributed disks. Users both on campus are welcome to make use of these facilities for regular storage, nightly backups, or research use. The storage pool consists of a number of chirp servers distributed across machines in the CSE department. All report to a catalog server so that users can view a list or or a display of available servers as resources come and go.

Each storage device has an owner that sets the policy regarding how it may be used. For example, some owners may only share space with their close colleagues, while others may allow strangers to use large amounts of space for a long time. It's entirely up to the owner of the storage.

Most devices in the storage pool will allow access from any ND AFS user or host in the CSE department. Users can create private directories on a per-user or per-host basis. You may also authenticate from off campus using Globus credentials.

For more information, please read about the Chirp file server, or see these instructions on getting started.
Related Links